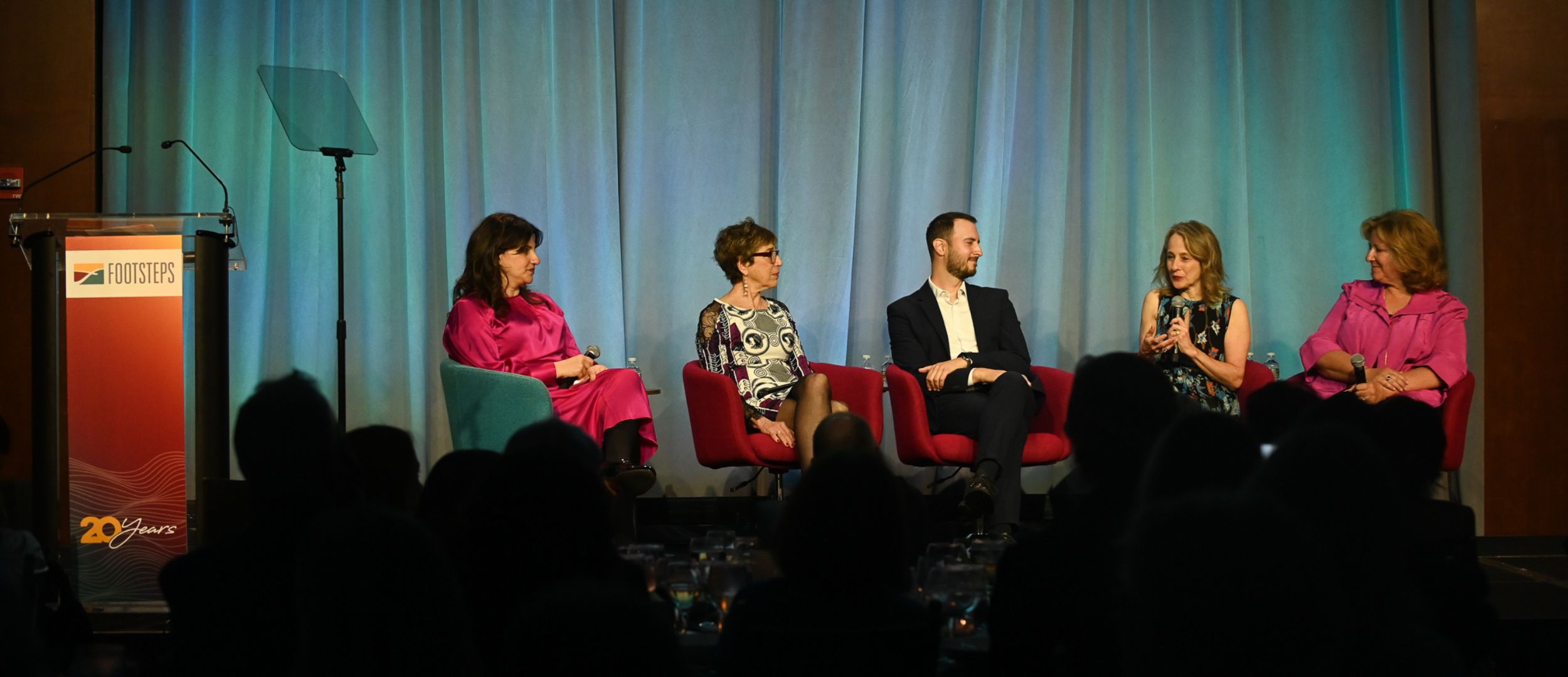 Communications + Field Building
Footsteps is an organizing partner and leader in a growing field that includes a community of organizations and individuals working together in support of those who have left insular religious communities by sharing ideas, research, systems, and practices.
Please contact [email protected] or (877) STEPS-55 (877-783-7755) for more information about our field-building programming, or to join as a member.
Footsteps provides opportunities for members to participate in our online communications, storytelling workshops, educational webinars, and events and conferences related to the experience of leaving insular religious communities. We also train clinical and organizational partners in cultural competency. 
Communications
Weekly Program Update (WPU): Our WPU newsletter is shared with members every Friday and includes all Footsteps programming and announcements relevant for the upcoming week.
Google Groups: Footsteps offers a number of Google Groups for members to join and receive announcements and information based on their interests including:

FS Announcements and Resources
FS Rockland 
Parents Group
Seasoned Seekers
#ThisOTDlife
 
Social Media: Footsteps members are the center of everything we do, and we love to feature members on our social pages. We will never share anything without members' explicit permission, but if you are interested in participating in our social media campaigns, please find some opportunities below. If you have any ideas for our social media, our team would be eager and excited to collaborate with you, so please do not hesitate to reach out. Below are two social media campaigns that you can participate in by posting online and using the hashtags:
#WeMetAtFootsteps: Some special friendships, partnerships, mentoring relationships and many more types have started at Footsteps, and we want to celebrate them all.
#OnMyOwnTime: Footsteps members are exploring and engaging with the world in ways that are so exciting to learn about – cold water swimming in the Atlantic, archery, yoga teacher training – there is no limit to what Footsteppers are capable of.
Field Building
Yotzim Without Borders: Footsteps convenes a group of international organizations who focus on advocacy, social services, and community building within the formerly Orthodox world in Australia, Germany, Israel, the United Kingdom, and the United States.
Cultural Competency: Footsteps' Scholar-in-Residence Chani Getter provides cultural competency training to our organizational partners and service providers so that they can better understand our members, the worlds they come from, and their experiences.
IGNITE! Community Impact Microgrant and member leadership: Footsteps offers funding for member-led projects that amplify the voices and culture of the formerly ultra-Orthodox community.
Academic Research and Conferences: Footsteps provides guidance for academic research related to the formerly ultra-Orthodox community, and elevates opportunities for members to join relevant conferences.
Learning Opportunities: Footsteps hosts events for members and the general public to learn about issues related to the formerly Orthodox community.
Invite Footsteps to your inbox. We'll share our latest news, interviews, event recaps, and more!