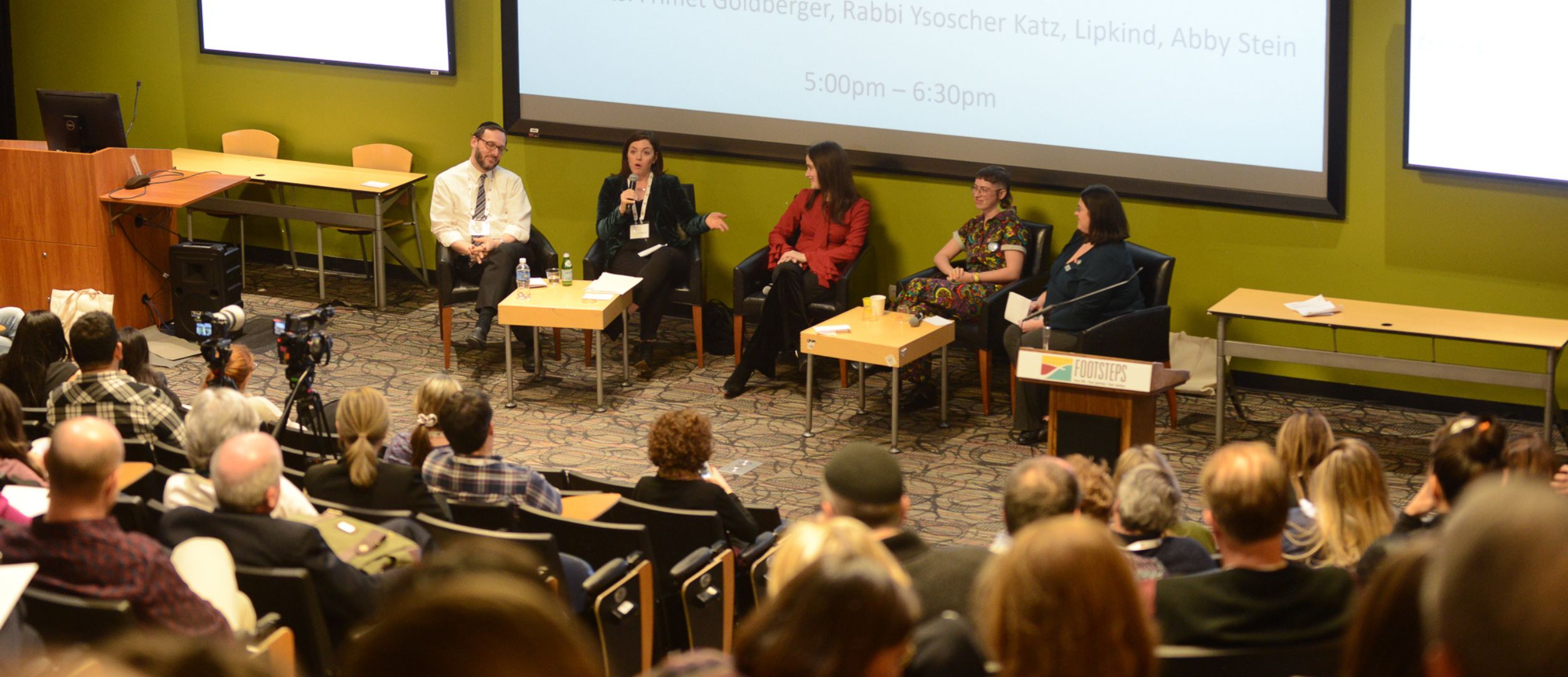 Footsteps is an organizing partner and leader in a growing field that includes a community of organizations and individuals working together in support of those who have left insular religious communities by sharing ideas, research, systems, and practices.
Please contact [email protected] or (877) STEPS-55 (877-783-7755) for more information about partnering with us or to inviting us to speak at your events.
Our work in this area aims to amplify member voices in the public square, support member projects that build up the formerly ultra-Orthodox culture, and increase the general public's understanding of the experiences of those that have left the insular communities of ultra-Orthodox Judaism. 
Yotzim Without Borders
Footsteps convenes a group of international organizations who focus on advocacy, social services, and community building within the formerly Orthodox world in Australia, Germany, Israel, the United Kingdom, and the United States. 
Cultural Competency
Footsteps' Scholar-in-Residence Chani Getter provides cultural competency training to our organizational partners and service providers so that they can better understand our members, the worlds they come from, and their experiences. 
Academic Research and Conferences
Footsteps provides guidance for academic research related to the formerly ultra-Orthodox community, and elevates opportunities for members to join relevant conferences. 
Learning Opportunities
Footsteps hosts events for members and the general public to learn about issues related to the formerly Orthodox community. To see past webinars click here. 
Chloe's Story
Thanks to Kathleen, a Footsteps volunteer who helped me with the college application process, the Footsteps Educational Scholarship that helped me pay for school and a computer, and the support I received from others just like me in the Footsteps Second Gen group, a group for children of members, I am achieving my dreams!
Bee's Story
My first Connect Over Coffee, I was so nervous and I looked up to the person I was connected with and wished to be in their place. They were so confident in their identity and so comfortable with not being religious. A few Connect Over Coffees later, I became the Footsteps member that was able to guide younger, newer Footsteps members. It was a good feeling to see the growth.
Dina's Story
There are so many ways Footsteps has supported me over the years. Sometimes I reflect and realize that a lot of who I am, where I am, and the future of my kids would not be possible without Footsteps at my side. Not only for leaving the community, but just for being a woman and an immigrant, I'm at a huge disadvantage especially in the Orthodox community. Footsteps has stepped up and stepped in during the toughest parts of my life.
Kai's Story
After not receiving a secular education growing up, I graduated with a degree from an Ivy League University (Columbia) and that would not have been possible without Footsteps. Besides for the scholarship from Footsteps, volunteers tutored me and checked over my work, other volunteers eased my anxiety and imposter syndrome. I am so grateful and proud of my degree and I don't think it would have been possible without Footsteps.
Sol's Story
As time went on, and with the tremendous help of the Footsteps staff and volunteers who mentored and tutored me, I began to realize that perhaps I could achieve more. I realized that maybe, just maybe, I could actually do something big. I decided that I wanted to become a doctor. Meeting other people from the same background who had surmounted similar challenges gave me the courage to continue forward and to aim high. And I achieved something big! I am now a physician, and I'm training to become a surgeon. It is hard work, but incredibly gratifying.
Tyler's Story
The Footsteps Student Cohort combines the experience of our student members with the resources and guidance that footsteps provides. As the Student Cohort Leader I had the privilege of helping students understand the resources that Footsteps has to offer, and to help Footsteps have a better understanding of what our student members need. I'm so thankful that Footsteps allowed me this opportunity to give back to my fellow formerly ultra-Orthodox college students!
Mike's Story
When I left the community after spending 20 years in yeshivas, I had no idea how I would support myself and find a fulfilling career. Footsteps was there for me every step of the way, introducing me to colleges, helping me apply to and attend Brooklyn College, and providing me with the crucial financial support of the Footsteps Scholarship. Now I am in the Mental Health Counseling Masters program at Brooklyn College, studying to be a therapist.
Invite Footsteps to your inbox. We'll share our latest news, interviews, event recaps, and more!